This one is a question for you, so I would be really thankful for as many comments as possible 🙂
Each time I get ready for one of my business meetings or lunches with someone from the Finance industry one of my best friends says to me "wear colour, whatever you do don't wear a black suit like all the others, be yourself and wear colour". I then diligently dive into my wardrobe, pull out whatever colourful outfit I can possibly put together that looks remotely professional and…when I finally leave home I am wearing a black suit with white shirt! Is this me having a total lack of imagination or is this me having a very strict stance on what to where when? This is what I looked like yesterday:
One of the first things my lunch coleague said to me was "I love the red shoes" – my day was saved and I no longer felt so guilty for once again going to a meeting in a black suit – thank you!
I had seriously tried on Monday – and went to my business meeting wearing tailored trousers with a very nice light brown cord jacket (sorry no picture) – it looked good but when the person I was meeting turned up in a wonderfully cut dark grey Italian suit, I longed for one of my suits.
My thoughts are:
1) Most of my business meetings are with Men in dark suits (despite the fight for women and equality in the work force), so there is that part of me that simply likes to conform.
2) I will always add a bit of a funky touch to the "boring" suit, be it red shoes, red lipstick, two watches, a tie with bling on it…anything I feel like on that day.
3) The shirt will always be white – look at Karl Lagerfeld – do you ever see him wearing coloured shirts? (that is my excuse :-)).
4) It is the fit that counts! Be very careful to make sure the jacket/ skirt ratio is what you want it to be, that it fits right and fabric is of good quality.
Bonus thought:
When my hubby has a really important meeting he also doesn't get to go out of the house without wearing a very nice plain white shirt, dark suit – well cut!
Where I buy my suits (click on images to buy online):
I love Ted Baker because of their fit and the pretty lining they have:
Boss is another favourite of mine: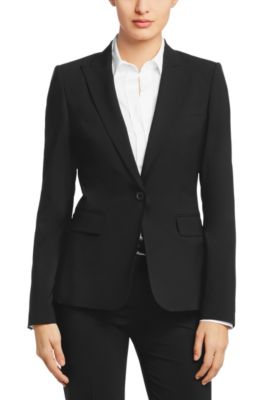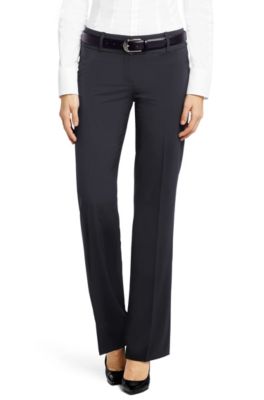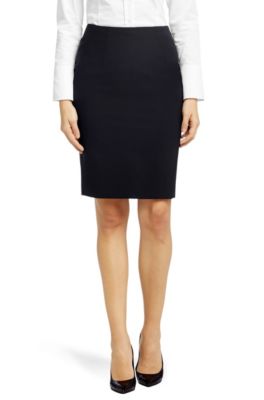 And then occasionally I have bought business wear in Mango:
Of course there are others and going forward I will certainly check COS out but the above three are my favourites.
I look forward to reading your take on wearing a simple black suit for a business meeting – I am really interested, you may even make me change my mind;-)
Yvonne x
1
Person thinks this post is funky