Paris is a city everyone should go to at least once in their lives 😉 There are plenty of travel guides telling you all about the major sights – these posts are simply a few tips from my personal experiences in Paris – things the travel guides may not necessarily tell you 😉
Three posts covering Food/Eating, Shopping and Sightseeing!
Food/ Eating:
Pictures from Ladurée 😉
1) Ladurée – An absolute must to visit for a drink and something sweet!
Escape from the normal tourist crowds and go to the original store which opened in 1862 – Metro station Madelaine, down Rue Royal.
Personal favourite macaroon flavour is caramel 😉
Pictures from Le Hide
If you would like to experience Michelin star flavours and cuisine but pay normal prices Le Hide is an absolute must. Hide is a Japanese chef who trained with famous Michelin star chefs! Make sure you book as the restaurant is small and fills up pretty fast!
As a price guide my Mum and I  had 2 course menu each (we shared the entree and desert to turn it into a 3 course each ;-)) with a glass of champagne each and 3 glasses superb Saint Emillion red wine for a total of Euro 109!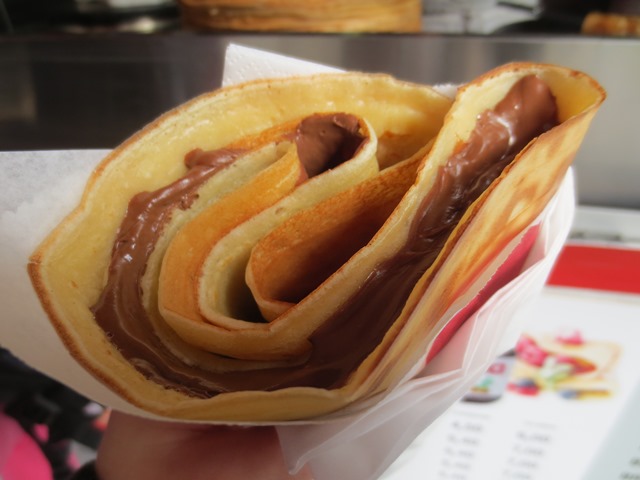 3) Crepes
Crepes have got to be my favourite lunch time snack in Paris – you will find them everywhere at a huge range in price but the absolute best you can get are from the stands – there you can watch them being made and savour the smell of them on the grill 😉
Favourite crepe stand for both my daughter and I has always been at the bottom of Avenue des Champs Elysees just where the Tuileries Garden begins – we buy them there and then find a lovely little bench in the gardens and savour both surroundings and yummy crepe!
4) Monop
So this sounds funny perhaps – but after a full day walking kms through the city I sometimes crave the easy option of having a picnic dinner in  hotel room. Monop (part of Monoprix chain) is a supermarket chain which has some lovely modern shops around town with a fabulous selection of  salads to take away, fresh baguette and wonderful wines – what more can one want 😉
My personal favourite shop is the one down Victor Hugo close to Arc de Triumph but there are several shops dotted throughout Paris.
Hope you find this useful – be ready for the next post on FunkyForty which will have my personal Paris Shopping tips 😉
Wishing you all a wonderful Sunday!
9
Persons think this post is funky