Reminiscing Franco Moschino, discussing his successor Rosella Jardini and smiling at the more recent collections since Jeremy Scott took over as Moschino's creative director in 2013 – what more could any fashionista wish for?
Sabrina Pesenti from Blonderblog moderated the past/present discussion with lovely Mother – Daughter duo from Moschino…and we sipped prosecco on the 5th floor of Modissa – smile.
Looking Back:
1) Franco Moschino (1950 – 1944) loved and lived his label so much he is quoted as saying "I don't speak Italian I speak Moschino".
2) Putting fabulous outrageous humour into fashion –  Moschino satirically imitated a Chanel suit by embroidering "This is a Waist of Money" where  traditional gold chain belt would have been.
…do you think Scott was reminiscing as he turned out his first collection with the McDonalds Chanel suit – smile?
Image from thegloss.com
I simply adore the happy meal bag brought to the evening by Moschino!
3) Franco Moschino's aim was for women to wear what they want and not to be bound by rules of fashion  – so ladies – it's OK to go shopping in your pjs – provided they are Moschino of course – smile – or even dressed as Barbie – I am sure he would have approved of Scott's Barbie dress!
4) Rosella Jardini worked for Moschino for 20 years – carrying out Franco Moschino's legacy after his death until 2014 and now works as consultant for Missoni.
A look at Now:
Love the fact the Bears are featuring so huge again – might need one to add to my collection!
In store at Modissa now:
Am still thinking of the clothes I borrowed for the "Dressed Up in Seconds" post… personally I think Moschino is fabulous if you want to make a statement with very little effort – their designs alone do all the work for you…early days I know but that little black dress has got to be the perfect thing to put into your bag and grab at the end of the day as heading out for the Christmas party…
 Thanks to Sabrina, Moschino and Modissa for a fun event!
PS: If you liked this post you may want to come to Modissa next Wednesday evening 2 September for another moderated talk, this time by TV personality Monika Schärer with guests Marisa (creator of first ever Swiss Fashion Blog) and Raphaela Pichler (photographer).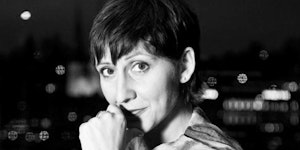 Wishing you all a wonderful evening or day – depending where you are right now!
15
Persons think this post is funky